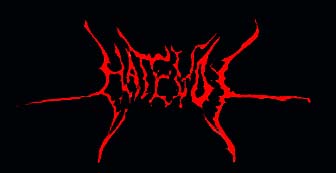 The concept of Hatevol was basically spawned from the ashes of the then dying Embraced fanzine sometime during late 1995 . The idea of forming a band just lingered around , until finally Taaren managed to get some musicians to go down with him to the studios for a try-out jam . Back then , he got his good friend A-Shad to try & help out with the band , but A-Shad soon left after only about 2 sessions , as he did not know how to contribute musically at all . Apokalypse joined the band sometime during the 2nd jamming session , whereby Taaren was looking for a vocalist & Apokalypse offered to help out. Taaren had also engaged the help of our very first drummer - Avdahl , who was a fellow schoolmate. They had a pretty boring first jam session , & after that , during the 2nd jam , Avdahl pulled in his close friend - roy , who was rumoured to be an excellent guitarist . Anyway , things did not work out with the band , it was soon realized that the drummer and another guitarist had other ideas, therefore they were asked to leave the band. Pyron joined the clan after five sessions to give the music a chilly high pitched voice. Their music is inspired by the scandivanian greats of Marduk, Dimmu Borgir, Immortal, etc. Pyron took over the keyboard section there after. In the absense of a drummer, the trio worked on basically what they can acquire, soon a mystic and dark piece 'Funeral March' was evolved, this piece will be in the demo soon to be release by the band. It was then in Febuary 1997, they got the service of an experienced drummer, Tahar, now with almost a complete line-up, they wasted no time in practising whatever they've preached in the lair of Pyron. The band wrote two songs of raging blackness namely 'Crimson Tales' and 'Embattlement'. Towards the mid of '97 A.S. Tahar has to leave due to personal reasons and a new drummer was temporarily introduced ... However, Tahar has since rejoined the band .
The olden line-up is such:
Pyron (keyboards, vocals),       Taaren (guitars)
Jayphus (drums),             Angel of Apokalypse (lead vocals)
Despite all that has happened which has disrupted the band's entity, the formation is confirmed and ready for war. Two more members were added to the Hatevol clan. Namely Seth (holocaustic strings) and XYadarma (bass guitar). Await our battle cry!!
Hatevol Clan
Taaren (lead guitar)
Angel of Apokalypse (lead vocals)
Pyron ( keyboards, vocals)
XYadarma (bass)
Seth (holocaustic strings)
Tahar (drums)


© 1997 Hatevol, All rights reserved.
The rivers will never flow the same way with crimson tales !!!
---
news | biography | discography | sounds | poems & lyrics
email | band contact | Other links
---