FIRE DISCOTHEQUE
Saturday 14th August 1999
---
Greetings & salutations fellow Metalmanics !
It's been 2 years since I last been to any gig even though there was a Supreme Fest gig about 2 weeks before this one if I remember correctly ... That gig I believe would most probably have drawn in the Malaysian crowd with bands from across the causeway playing here . Anyway , Chaos 99 was not really a disappointment drawing in some 300 fans . Bands that performed this evening in order of appearance are : Gematria , Brutal Fear , Bastardised , Impiety , Manifest , Doxomedon , Rudra and Eibon .
Since 96/97 (the last time I went to any gig at all) , the local scene has somewhat exploded with lots of new , young & fresh faces carrying their extremist ideologies all in the name of good fun & supporting the local scene . Here is a picture of some enthusiastic fans taken before the gig got underway at 3:21pm where Gematria took to the stage .
Having just released a demo recently , this is the debut performance of a relatively young band whose music is basically very much COF/Hecate Enthroned influenced . They describe their music before their set as being 'Epic Draconian Black Metal' . Not being a particularly big fan of COF , I was a little turned off by their music , but fortunately their live set was not too bad ... saved by a good clone vocalist & an excellent keyboardist . Covers by this band also include one by their idols : COF (To Eve the Art of Witchcraft) Brutal Fear were next and man ... they were the ones who really got the crowd into it . Extremely tight & playing extremely well , they got the crowd all hyped up with their covers of Brutal Truth & Sodom . Looks like their decision to change a drummer was a step in the right direction although I'm not sure if they really did or not ... Anyway the drumming that night was one of high intensity with the double pedals leading most of the way ... Interesting too the way the band got audience participation when they did the Brutal Truth cover ... someone in the crowd was actually singing for them ...
I however still do not like the vocals & it seems like he'd never did progress since their demo days until now . Oh yes I almost forgot ... due to some incompetent idiot who screwed up with the photo taking , shots of Gematria & Brutal Fear never appeared after the film was developed . Not too worry though , I got the rest ... Bastardised were next & many were certainly glad to see them after their hiatus of a year perhaps more ? I was certainly glad to be able to witness their magnificent stage act live & they most certainly got me going as I threw down my camera & rushed to join the crowd headbanging away with their covers of Hypocrisy , Dark Tranquility & Slayer . One of their new demo songs though (Purple Butterfly) features a very bold attempt as yet seen or heard locally ... Clear vocals mixing & matching to the tone of this very melodic piece & I can most certainly say that they have improved tremendously since the demo days . A bright future definitely awaits this band . Most things went well for them that night except for the bad sound equipment during the Dark Tranquility cover & the most horrible vocal performance ever during the Algaion cover . If there was something which destroyed their excellent performance that night , this was it ... hopefully history won't repeat itself .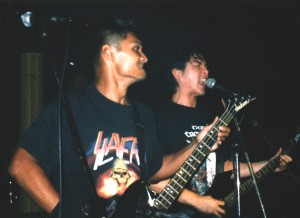 Next up , was the band which I had come specially to see & support : Impiety . (Especially after having been to their first Fire gig where they played Satyricon's Mother North & Mayhem's Freezing Moon) Also after having bought their follow-up album 'Skull Fucking Armageddon' I was pretty much excited to hear their songs namely Lords of Apokalypse & a personal favourite of mine 'Nocturnized' . I wasn't disappointed as the band launched into Nocturnized that got the crowd really going ... (myself included though I gave up after a while ...) the next series of events turned out rather badly (resulting in people getting hurt) , but it served to make this night even more memorable for all of us .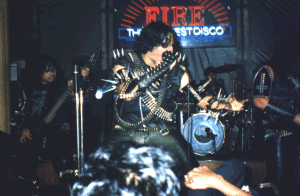 If I remember correctly , the band had covered Nocturnized ,then they did Sodomythical Frostgoats launched into a Bathory cover then did Diabolical Witching Aggression and then the vocalist astounded us with his amazing fire breathing which was good & worked well the first time round , but he ultimately ended up getting burnt as we could see the benzine solution dripping onto his face . Sad to say , his face caught fire (I can sympathize with him how painful this must be , being a victim of burns myself ...) & they had to cancel their set ... pity I didn't get to hear their cover of Sarcofago . Fortunately he's allright & they promise to stage a comeback sometime soon ... Hopefully he'll keep his promise & I'd most certainly look out for 'Torment in Fire' the next time round .
After the unfortunate incident which resulted in Impiety cancelling their set , the organiser & also boss of Dark Artz Releases (Spencer) announced that there would be a short interval then , whereby the gig would resume at 6:30pm sharp . It was now 5:11pm on my watch . With that , we left & went for dinner .
It was about 6:20pm when fans all started streaming back into Fire . Manifest was preparing for their set , & they had gone on stage proceeding with their sound tests playing with the backing sounds of Impiety's 'Skull Fucking Armageddon' album in the background ... kinda' funny looking back & reminiscing about Impiety's performance . Anyway , Manifest soon kicked off their live set , and much their disappointment , they failed to get the crowd going . Their music is very much comparable to Soulfly , but sadly that wasn't enough . I guess they just weren't extreme enough ... better luck next time guys . Here is a nice little shot of the band as they were about to wrap up their set :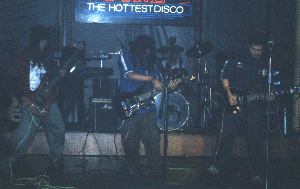 Next up , the awesome (& they are fucking proud people too!) ... Doxomedon ... actually I didn't know why so many people suddenly gathered in front of the stage , to watch the band . I didn't even know it was Doxomedon until a friend informed me . I simply went to the front because I (and tons of other guys too) noticed a lady decked all in black carrying a guitar & preparing to play ... being the perverted fiends that we all were , we couldn't help but move in for a closer look . As I went closer , I was in for a surprise !
It was none other than Pearce Arai whom had played some metal gigs with other bands before (bands that I would not name here due to some conflicts we had before) . Anyway , Doxomedon got the crowd off to a flying start & very soon , massive tons of sweat & bodies were flying all around everywhere ... I couldn't take the heat generated by the band , so I moved aside & watched in envy as the band (& the rest of my guys) pound away track after track ... Doxomedon pulled off an electrifying act that night ... good cover of Carcass btw ....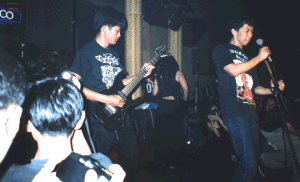 Still left high & dry after Doxomedon's gig , the fans eagerly awaited the performance of another rather original local ethnic band in the manifestation of Rudra ... kicking some serious ass & churning out weak stomachs , Rudra blazed away the night leaving behind massive trails of tired bodies after their covers of Slayer (was it Die by the Sword ?) & Sodom's (my fav.) Agent Orange .... the drummer was simply superb & what more can I say about him ? He always manages to captivate whenever he plays ... the vocals are also excellent , sounding grim & harsh , not at all like the gay COF vocals which most bands had that night . Here is an upclose & personal shot of the band amidst heavy moshing & banging :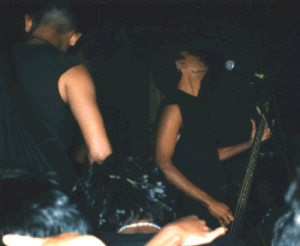 Finally , the show was almost at an end ... all things were almost said & done when Eibon took to the stage ... playing songs mostly from their debut album/demo (released under Dark Artz) 'The Garden of Theoparastus' , Eibon captured the essence of the night with their amazing intro captured & played with the touch of a programmable keyboard & superb vocal performance rendered by a hugh vocalist wearing what looked like spandex & a black bandana .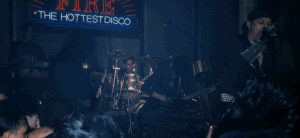 Covers by this band that night include Dissection's The Grief Prophecy & Venom's (another fav.) Countess Bathory . Certainly a most memorable night with the vocalist screaming away "Yeeeeaaaahhhhh" ( right claw raised high in the air) 12 times before he erupted into song . Eibon also had 2 members from another band playing on keyboard (which wasn't really too audible that night for most bands that used it cept' for Gematria) & guitar ? (or was it bass ?) . In all , a superb 'resurrection' performance for a band that was supposed to be dead but is now alive & kicking serious butt .
---
Chaos 99 ended on a high note leaving many fans hungry for more ...
Here's an overall band synopsis done courtesy of Vasp Necrogoat (knock yourself out man !) :
Gematria - Highly proficient performances. Top-notched debut for a relatively young band , but too highly unimaginative and generic; regurgitating all the stagnant aspects of modern atmospheric black metal.Calling themselves Cold Draconian Black Metal (if i can recall)? Nevertheless sophomorical. Superflous leaning towards images (corpse-paints, etc) ... Tone them down dudes! A nice cover of COF though.
Brutal Fear - They've put out one of the better shows tonight. Highly energetic and involving performance. The vocals suck though 'cos it's incoherent with the brutality of the music. Extreme killer cover of Hypocrisy's 'Pleasure of Molestation'. Is there a Blood Angel parody somewhere? Bottomline: Competent bestial death metal with old-school mentality (note my sarcasm here) and sufficient proficiency.
Bastardised - Premier doom-death outfit. The Slayer 'Reign in Blood' cover is killer. I'm headbanging to this one. With the brutality wearing off after the neat cover, I went back to my seat and closed my eyes. Some people thought I was in deep thoughts absorbing the melodic hymns from their subsequent numbers, but I was actually dozing off in boredom. Their cover of Dark Tranquility also fucked up when the sound system fucked up, thus disappointing some of my feral D.T.worshipping friends. The Algaion cover is a sleeping pill (and the vocals for this song is quite hilarious!). Otherwise solid performance with
prolific output. Not my cup of tea though.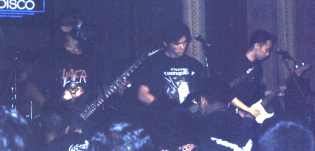 Impiety - The headliner of tonight, and they've put up an extremely involving show which beckoned me towards the frontline doing my most ridiculous gestures of goat-fornicating signs. They've got the most rabid responses from the crowd. Godly cover of Bathory's 'Sacrifice' that makes me want to desecrate and do ritualistic perversions. Sadly halfway through 'Diabolical Witching Aggression', mighty Shyaithan accidentally caught fire while attempting his evil demonic fire breathing, and got himself and the stage on fire. Coincidentally this took place in Fire disco. And the thought of him saying "This is Torment!" on 'Torment in Fire' (a nice teutonic thrash number on 'Skullfucking Armaggedon') suddenly fell upon me like a chilling revelation. He got his mouth burnt and his beard singed but he's strong enough to put out the fire and returned with a message to the shocked crowds, "Yeah.. I fucking (sic) burnt my mouth but I'll be back the next time round!" 666 praises for his strength to pull
himself through this unfortunate ordeal. If only those fucking monkeys behind me would just shut up.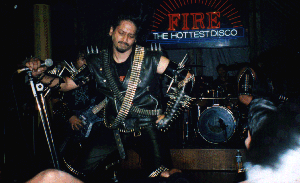 Manifest - After I've filled my stomach, I'm back to catch Manifest's performance. They're doing some kind of groovy modern thrashcore stuff in the vein of your Adidas donning Sepultura, Korn,etc. I'm not a fan of this style but I can't say it sucks 'cos it's quite well done and tight. They got the crowd excited with their cover of some Soulfly song and a closing
number that honours culture (?) with all the tribal beats and anti-establishment stuffs like that. Do we still need third-world
lamentation in such a fine country like Singapore?

Doxomedon - Another headliner for tonight. This is the next most involving performance that gets all the moshing and violence at the frontline. With all the stage-divings and headbangings I was so fucking screwed that I could hardly remember what songs they're doing. But I know I got my full delirium with their superb brand of highly charged Brutal Truth and Carcass cover. It's so engaging that I remember almost tearing apart somebody limb from limb (hah, this is an exaggeration) with my friend when this poor bugger got trapped between our gargantuan bodies! Haha, and I don't find that chick really playing the guitar at all!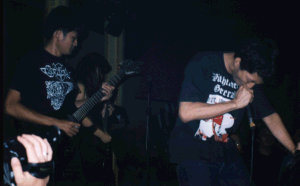 Rudra - This is another high profile act that again beckoned me to do frontline battles. Their superb mastery of instruments is very impressive and my ears were treated to their fluid blend of black-death metal and traditional Indian folk music. Sometimes I find myself transfixed in a psychedelic trance like a stoned cobra while those guys are sending their waves like a piper. Otherwise it's highly energetic mayhem of chaos. Sorry, I was too fucked to remember what covers they did.
Eibon - The last one and another of those headbanging ones. I retreated back to the seat, drained of energy and watched the rest of the show. They fall into the first category as Gematria: Highly proficient but otherwise unimaginative. It's the same old melodic stuff in my 'not so humble' opinion but the skill put them on another level. The only one that got me perked up again is their brilliant cover of Venom's 'Countess Bathory'. The rest of it is just a visual stimulation.
And here we have Chaos 1999 .
---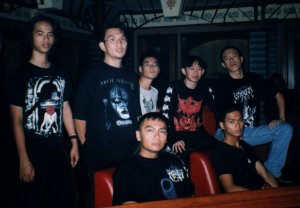 From me & the rest of my crew present at the gig :
Best Overall Performance : Doxomedon/Eibon
Best Vocals : Doxomedon/Eibon
Best Drummer : Rudra/Brutal Fear
Best Guitar : Impiety
---
Contact me
Previous Gig Report
Return to main page
---